Antonio Rumenović (CRO)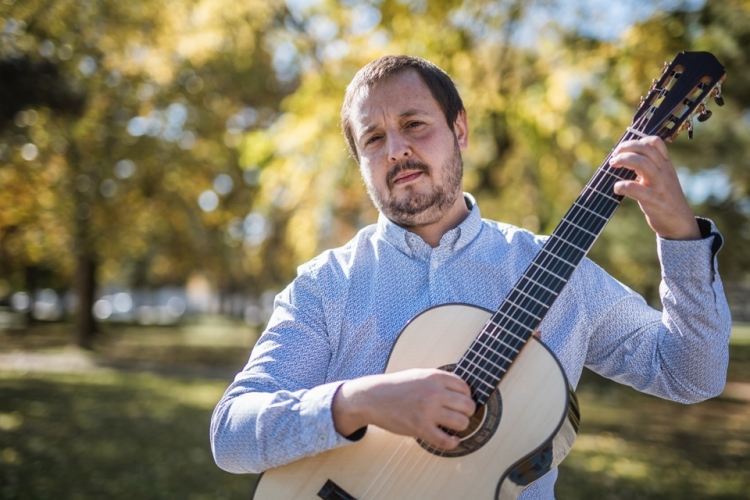 Prof. Antonio Rumenović, born on 30th May 1983 in Varaždin, Croatia, now also working in Varaždin and Zagreb. He finished Elementary music school and High music school in Varaždin in class of prof. Moreno Vinceković. In 2001 he enroled into Music academy "Ino Mirkovic" Lovran, Croatia in class of prof. Carlo Marchione and assistant Neno Munitić. Graduated 2005. in University of Zagreb at Academy of Music in class of prof. István Römer. In 2006. enrolls to Postgraduated study and Master's degree study in Hogeschool vor Musik at Conservatiorum Maastricht, Netherland and gets Master's degree in June 2008, in class of prof. Carlo Marchione.

As a student, he recieved gratest honor at guitarist competition "Ivan Padovec" in Zagreb, 2005. where he recieved an invitation to be the guest of honour by Miroslav Miletić, most famous Croatian composer, at final concert of event "The Music Days of Miroslav Miletić" in Sisak, Croatia. As a musician he performed around Croatia and Europe: Netherland, Italy, Austria, Hungary, Serbia, Slovenia, Macedonia. Since 2011, he is an active member of chamber ensemble "Laurum".

After graduation in 2005. starts working in Art school "Fortunat Pintarić" in Koprivnica, Croatia where he worked until 2019. With his great love to guitar, classical music and teaching he achieved many notable successes with his students: they compete on almost every competition in Europe and continuously accomplish high rankings. For his teaching and students achievements, he recieved highest award in Croatia from Education and Teacher Training Agency, a part of Institute of Education of the Republic of Croatia, for excellence in working with students in academic year 2010/2011 and 2014/2015. In last eight years he is a member of jury in various guitar competitions (Zagreb Guitar Festival, Festival Internacinal de Gutarra Guimaraes, Omiš Guitar Fest, Enrico Mercatali Gorizia, Tremolo Skopje, Sarajevo International Guitar Festival, Guitar Art Beograd, Porečki Tirando, Pula Guitar Fest, Sonus Križevci...) and is active as a lecturer and masterclass teacher.

Also is a vicepresident of Classical guitarists' Association "Allegro" Koprivnica. "Allegro" has many projects from organizing concerts and masterclasses, but the main project is "Summer guitar school Koprivnica" where he is an artistic director and main lecturer since 2011. From 2016. he is acting as "Zagreb Guitar Festival" competition coordinator. From 2017. he is acting as EuroStrings Competition coordinator.