András Csáki (H)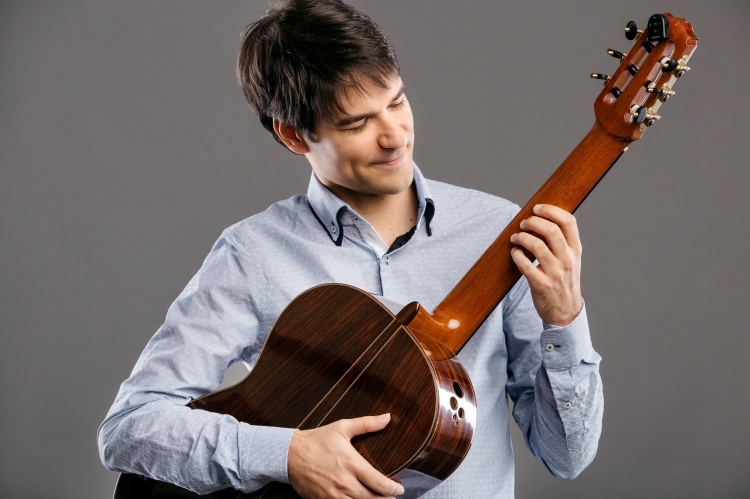 András Csáki is an outstanding guitarist of his generation. The magnetism and sensibility of his playing has enchanted audiences in many concert halls from Japan to North America. In professional journals several critics have pointed out that he always put his impressive instrumental knowledge and technique at the service of his musical ideas ("he always chooses expression over showing off", Kenneth Keaton, American Record Guide, 2011).

Csáki studied at the Liszt Academy of Music in Budapest, then at the University of Southern California Thornton School of Music, Los Angeles. His professors were Sándor Szilvágyi, Ede Roth, József Eötvös, Scott Tennant, William Kanengiser and Pepe Romero. He completed his Doctor of Musical Arts degree in 2014 at Liszt Academy of Music.

During his student years he won 30 top prizes in prestigious international competitions. Among others he was the winner of prestigious international competitions in Tokyo (2008), Alessandria (Michele Pittaluga International Classical Guitar Competition, 2009) and Almeria (International Julian Arcas Classical Guitar Competition, 2011).

In addition to a solo career, Csáki has dedicated himself to chamber music. In 2015 he performed Pierre Boulez's Le marteau sans maître, a famously great challenge in chamber music literature, an emblematic composition which requires musical experience and wide-ranging knowledge. Giving the first performances and disseminating guitar works by contemporary composers is a particular interest of his.

András Csáki has recorded five solo CDs. From the programme of his 2010 CD (Naxos) two works have found their way into the book of Canadian musicologist, Enrique Robichaud: Guitar's Top 100.

András Csáki conducts regular masterclasses in a number of countries in Europe, Asia and North-America and Australia. In 2009 he started to teach at the Liszt Academy of Music Budapest. Since 2020 he's appointed full time Associate Professor. He was awarded the Junior Prima Prize in the musical arts of the Prima Primissima Foundation in 2009. In 2010 he received The Youth of March prize. He was the first recipient of the memorial plaque of Karola Ágai and László Szendrey-Karper in 2015.

András Csáki is a D'Addario Artist.