Giampaolo Bandini (I)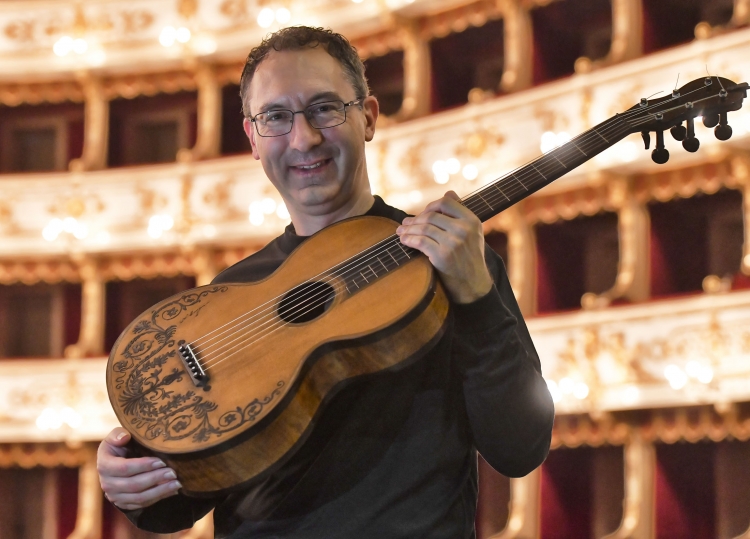 Giampaolo Bandini, DECCA artist, is considered to be one of the best Italian guitarists on
the international music scene.

In 2003, he was nominated as the best Italian guitarist of the year by the magazine "Guitart"
's readers. In 2002, he made his debut as a soloist in the Grand Hall of the prestigious St.
Petersburg Academic Philarmonic, a honour which is rarely granted to a guitarist, achieving
such a great success that he was asked to play the following years.
He regularly features as a soloist, in chamber music ensembles and with orchestras in the
most important music Festivals around the world, from Europe to the United States, from
Africa to South America (Carnegie Hall-New York, International Center for Performing Arts in
Pechino, Arts Center-Seoul, Ircam-Paris, Musikhalle-Hamburg, Teatro Cervantes en Buenos
Aires, Sala Tchaykovsky-Moskow, ecc). In 2012 he has brought back successfully the guitar
at La Scala Theatre in Milan, in a program for guitar and string quartet, together with the String Quartet of La Scala, gaining a big success of public.

Together with Cesare Chiacchiaretta, bandoneon player, with whom he has been playing
regularly in a duo for more than 20 years, they played in the most important guitar festivals in
the world. Leo Brouwer wrote and dedicated the beautiful piece "Folia a traves de los siglos"
to them, recorded on the Decca album "Tango y Folia" in 2020.

He regularly features as a soloist, in chamber music ensembles and with orchestras in more
than 50 countries around the world such as Korea, Austria, Germany, Luxembourg, USA,
Spain, Canada, Mexico, Bosnia, Poland, Holland, Croatia, China, Belgium, Libia, France,
Russia, Greece, Argentina, Columbia, Romania, Lituania, Switzerland, Great Britain, India, Danmark, etc.
His CDs dedicated to the music of Paganini ("Intimate Paganini", recorded with the guitar
that belonged to Paganini), and to Mario Castelnuovo-Tedesco with the complete chamber
works have been recently released for Decca Label.
He often played with living legend Salvatore Accardo in the most important music seasons in
Italy and abroad (Accademia Chigiana di Siena, Teatro Regio di Parma, Società dei Concerti
di La Spezia, Festival di Musica da Camera diCartagena-Colombia, etc).
He collaborates with prominent musicians such as Avi Avital, Massimo Quarta, Danilo
Rossi, Enrico Bronzi, Pavel Berman, Pavel Steidl, Sonia Ganassi, Moscow Virtuosi, Corrado
Giuffredi, Quartetto d'archi della Scala, Trio di Parma, Andrea Griminelli, Michele Pertusi and
many others.

He was awarded "The Golden Guitar" by the Conference Committee of Alexandria for the
important work of expansion and promotion of the guitar in Italy and in the world.
Nowadays, he's a guitar and chamber music teacher at the Music Conservatory "Luigi
Boccherini" in Lucca, "Arrigo Boito" in Parma and he holds masterclass in the most prestigious
educational institutions in the world.